Currently Trending on Social Media
60-Day Money-Back Guarantee
100% Satisfaction Guaranteed
SPECIAL FEATURES
The 48 Tools in One is uniquely designed - combines 48 tools into one and makes any repair quick & easy. By simply clicking between the different sizes you instantly have the tool you need for the job.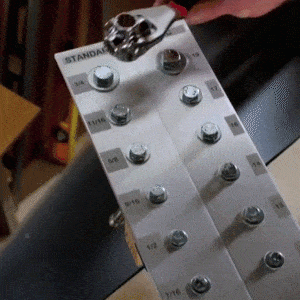 Thick, heavy duty, professional tool that's designed to tackle all your projects around the house, in the shop or on the job.
Swiveling head and rotating adjustments let you find the size you need quickly and easily at any angle.
Works with spline bolts, 6-point, 12-point, Torx, square and even damaged bolts.
Able to click to a 45 degree angle to get those difficult to reach nuts and bolts.
SPECIFICATIONS
Product Dimension: 1.9 x 1.8 x 10 inches
Material: Carbon Steel
Limited to first 500 customers*
*Please note - Due to high demand, we anticipate delivery of your awesome product within 12-25 days global (quicker to US, Canada, & Australia). In some cases, our carrier may take longer than the estimated delivery time to deliver our items to you. Additional delays may occur due to weather conditions, holidays etc. On orders of 2 or more items, faster shipping will be provided whenever possible!